Artificial photosynthesis for a clean energy future
Our objective is to provide a sustainable alternative to the production of fossil-based, energy-intensive fuels and basic chemicals. The required energy will be provided by sunlight, the raw materials will be abundantly available molecules, such as water, carbon dioxide and nitrogen.
News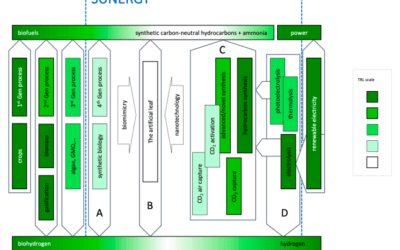 Picture caption: The broad field of technologies from biofuel to renewable power, and their TRLs (schematic). The large-scale research initiative is indicated with a dashed contour and covers the technologies ranging from (A) advanced biotech with synthetic biology,...
Videos