Artificial photosynthesis for a clean energy future
Our objective is to provide a sustainable alternative to the production of fossil-based, energy-intensive fuels and basic chemicals. The required energy will be provided by sunlight, the raw materials will be abundantly available molecules, such as water, carbon dioxide and nitrogen.
News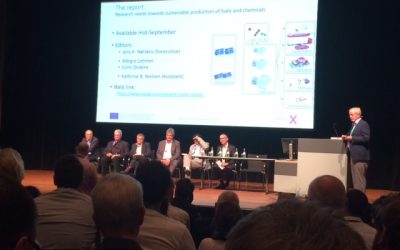 Picture caption:  From left to right: Bert Weckhuysen, Robert Schlögl, Gabriele Centi, Maximilian Fleischer, Frédéric Chandezon, Hervé Bercegol, and Jens Nørskov. On August 20, SUNRISE and ENERGY-X representatives took part in the panel discussion of the session: "The...
read more
Events 
Videos 

Priority Research Directions & Vision